From the Kitchens of Italy to Yours
New authentically Italian sauces made to capture the timeless taste of Italy.
Over 150 years in the making
Made in Italy, Bertolli d'Italia sauces reflect Francesco Bertolli's appreciation for the simple pleasures of life; from high quality ingredients to the joy of connecting with loved ones around the table.
New Bertolli d'Italia sauces bring you the simplicity of Tuscan-style cooking with tomatoes vine-ripened under the Italian sun, finely aged Italian cheeses, fresh cream, and Mediterranean olive oil.
Recipes Inspired By Italy
Bring Italy to your table with these simple & delicious dishes.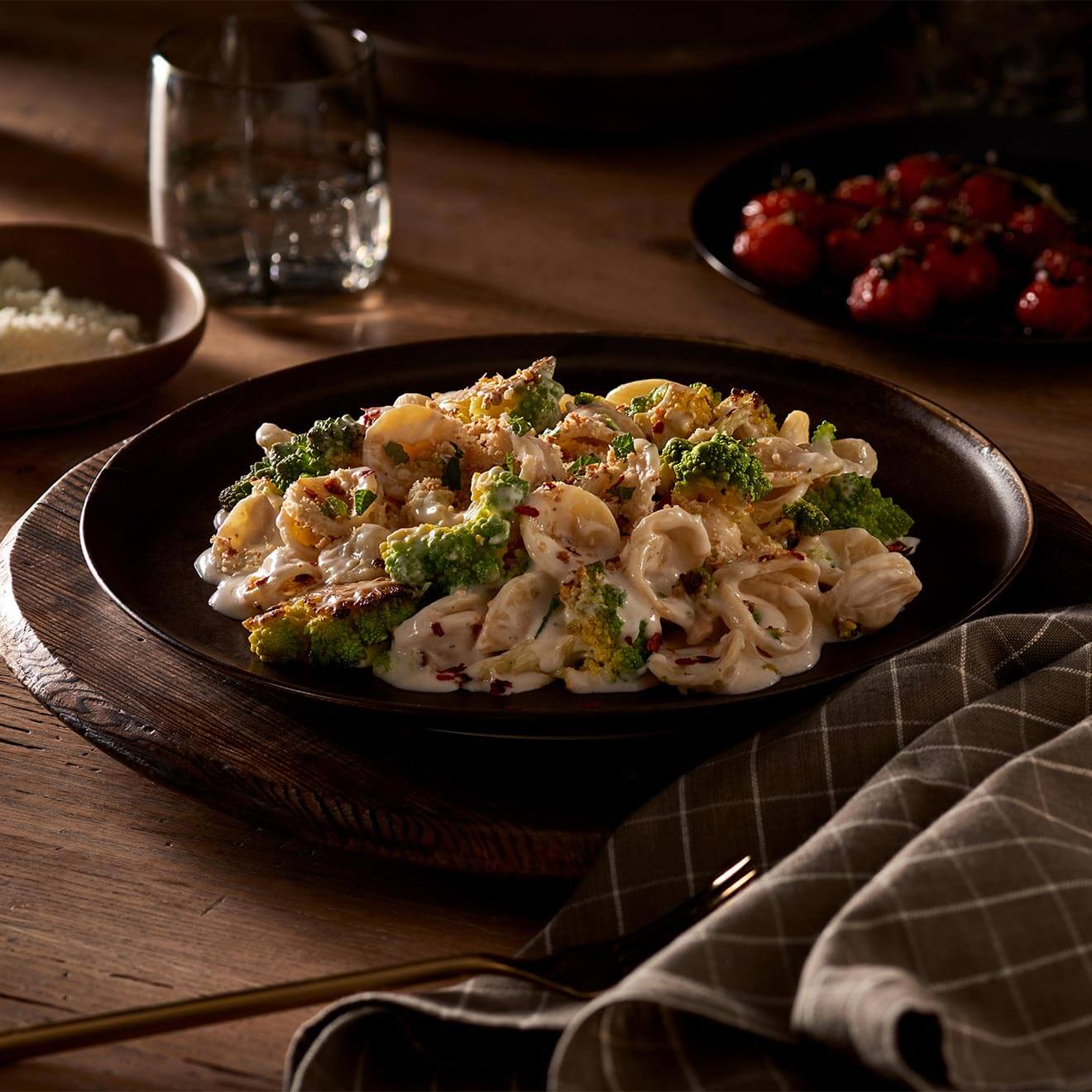 Orecchiette with Roasted Cauliflower & Crispy Breadcrumbs
View Recipe
Herbed Parmesan Polenta with Chicken Sausage & Veggies
View Recipe
Frequently Asked Questions
Here are answers to some of the ones we're most often asked.
BERTOLLI D'ITALIA
Q: Where can I buy Bertolli d'Italia sauces? When are they available?
A: Bertolli d'Italia Pasta Sauces will be available at grocery and retailers nationwide beginning in March 2021.
Q: How much do the Bertolli d'Italia pasta sauces cost?
A: Bertolli d'Italia red sauces retail for a suggested price of $3.99 per 24.7-oz. glass jar and Bertolli d'Italia white sauces retail for a suggested price of $4.49 per 16.9-oz. glass jar.
Q: Are there artificial colors or added sugars in Bertolli d'Italia Pasta Sauces?
A: The full Bertolli d'Italia line is made from a bounty of premium ingredients, pledging the same commitment to simplicity and quality that Francesco Bertolli prided himself on when he first opened his shop in Tuscany in 1865. The full Bertolli d'Italia line contains no artificial colors. Bertolli d'Italia red sauces contain no added sugar but are not a low-calorie food. The nutrition label can be consulted for more information on sugar, sodium and calorie content.
Q: Are the new Bertolli d'Italia sauces organic/GMO-free?
A: Bertolli d'Italia Pasta Sauces are not currently offered in organic and/or GMO-free varieties. However, you might like to know that the Bertolli brand also offers a wide selection of certified organic and non-GMO pasta sauces and is the leader in the U.S. Organic pasta-sauce category. We currently have four delicious, organic red-sauce varieties as well as an organic white pasta sauce. The great thing about the Bertolli Pasta Sauce line-up is that we offer so much variety — there's a really delicious sauce that's perfect for almost any culinary need. 
Q: Does Bertolli d'Italia contain preservatives?
A: Bertolli d'Italia red and white sauces contain some preservatives in order to maintain the sauces' taste and quality.
Q: What sauce varieties are available in this new line? 
A: New Bertolli d'Italia Pasta Sauces are available in red and white sauces that complement a range of recipes, from classic Italian staples like pasta to contemporary dishes. The four, taste-tempting new Italian sauces include:

Marinara
Creamy Rosa
Alfredo
Four Cheese Alfredo

Check out Bertolli.com for tasty recipes made with Bertolli d'Italia Pasta Sauces.
Q: What inspired the brand to create the new Bertolli d'Italia line? What makes it special?
A: With people cooking at home more than ever, home chefs are looking to elevate their meals with premium and approachable grocery items. Bertolli d'Italia is the answer. The new line – which translates to "Bertolli of Italy" – allows people to take a culinary journey to Italy through the delicious dishes they create right at home. 
Q: How are Bertolli d'Italia Pasta Sauces different than other Bertolli Pasta Sauces? 
A: While every Bertolli sauce is inspired by rich, Tuscan culinary traditions and technique, only new Bertolli d'Italia sauces are made in Italy using Italian chopped tomatoes and finely aged Italian PDO (Protected Designation of Origin—used to designate cheeses from certain regions in Italy) cheeses like Parmigiano Reggiano, Pecorino Romano and Grana Padano. Like all Bertolli Pasta Sauces, every jar of Bertolli d'Italia reflects more than 150 years of authentic Italian culinary expertise. All Bertolli sauces, including new Bertolli d'Italia, are crafted with high-quality ingredients, lightly cooked in olive oil, using the Tuscan Way to lock in layers of flavor that bring a range of mouthwatering dishes to life.  
Claim your seat at the table
Sign up for our email list to receive future Bertolli® coupons, recipes and more.
Sign Up